How A.I. is improving Industrial Vision Applications
Aims of Industrial Vision
Industrial machine vision allows replacing human eye-based decisions in the production chain. Not being influenced by fatigue and moods, it improves productivity, quality and profitability, while having full control and visibility over the production in Realtime 24/7. Operators can therefore concentrate on specific tasks with higher added-value.
Furthermore, it is a non-contact measurement that suits sensitive and delicate parts.
Principles of Industrial Vision
Concretely, every vision system relies on a minimum set of components to obtain robustness and consistency. A light source illuminates the produced parts, which are being imaged by an industrial camera with dedicated optics. Those images are further analyzed by a software running on a dedicated processing unit to output dimensional values or decision about that particular.
Feel free to contact us to get advices for your industrial vision application. From the hardware selection to the software deployment, we can either offer turn-key solutions or help your team gain innovative knowledge.
Artificial intelligence (AI) is a breakthrough that has changed industrial vision forever. Indeed, while non-AI vision software, also called conventional/traditional software, has been around for several decades, showing great capability in the dimensional measurements for instance, it usually fails for most challenging applications with complicated parts, complex backgrounds or requires an expert finetuning algorithms during weeks and modifying parameters frequently during production shifts.
Deep learning is sub-domain of artificial intelligence that employs a neural network that can effectively reproduce human vision detection. The neural network can be trained, most of the time by providing a collection of representative data, images to teach it what is expected. Once trained, the network can be employed to calculate (also called inference) the outcome of unseen images of the production, absorbing natural variations and deviations of good products as well as handling variation of defects.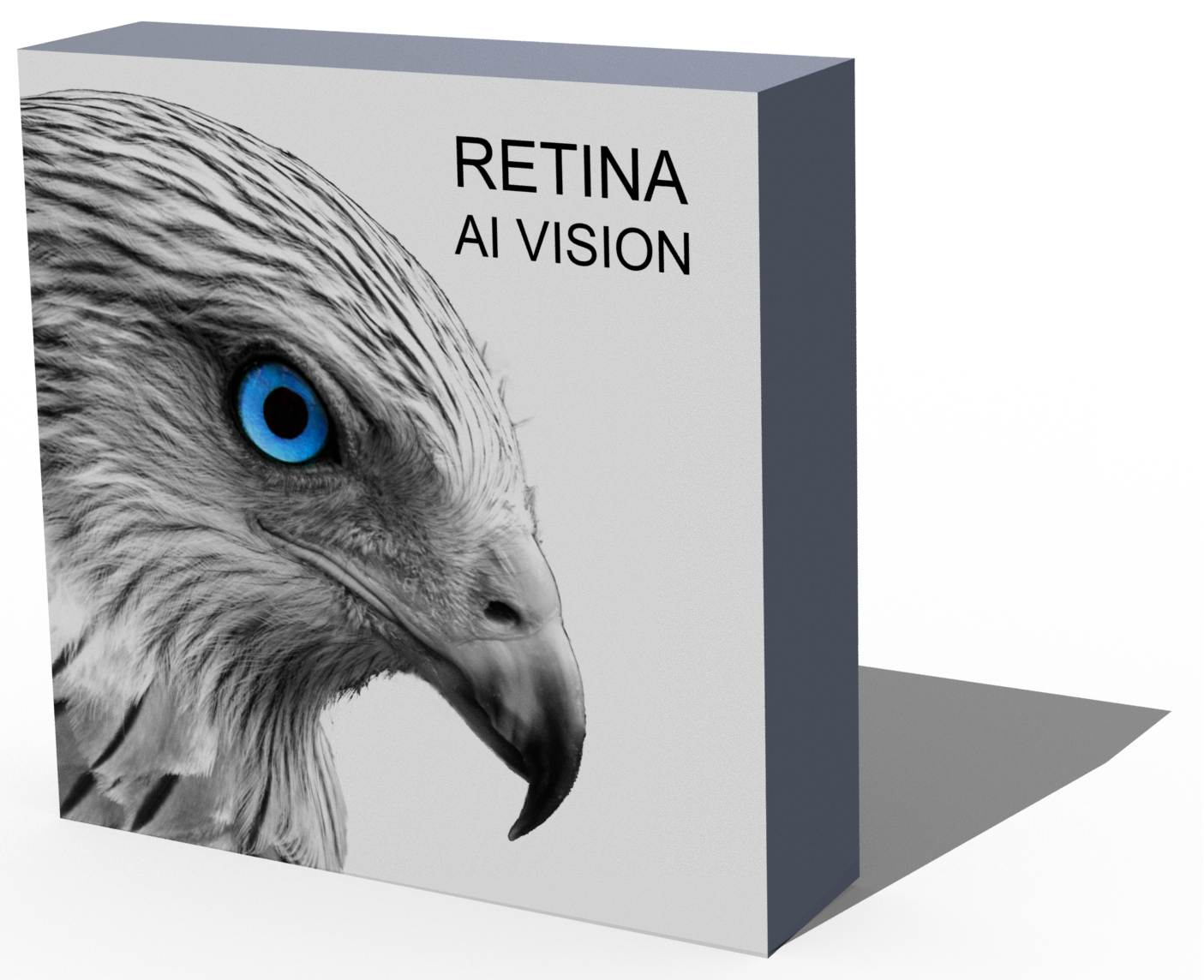 Using our deep-learning software Retina, there is no need to write a single line of code nor to be familiarized with deep learning to be able to deploy a visual inspection within minutes. Vision engineers can therefore concentrate on specific tasks with higher added-value. Just collect images of the parts and let Retina train the network. In the production, import the network with our library or as drop-in plug-in into your favorite vision software.
Contact us in case your project cannot be done internally. We are vision experts who developed Retina for our own usage, with functionalities and performance we couldn't find elsewhere on the market.
While deep-learning software usually runs on massive hardware architecture accessible only on the cloud, we designed Retina to perform locally on your machine without any data being sent over the Internet.
Be it cracks on shiny parts, scratches down to pixel level, character recognition, sealing integrity, parts localization for pick and place, we offer tools to solve them all. Retina is used in medical products, luxury watches, food, automotive industries and whenever premium quality is required.
Visit the Retina description details and our application examples to understand how it can be employed to solve your challenge based on our hardware product selection.
Using our high performance Edge Deep Learning IPCs will help you keep all the history of your production by saving every single product images locally. These images can then be transfered into your factory network storage directly to avoid sending over the internet or cloud storage with the risk of losing track or getting hacked.
TESTIMONIALS
What People Are Saying
"We did not believe Retina could perform better until we see it in live." Eric H.
"The defects were so tiny that we could not find a ready made solution on the market with a pixel level accuracy. We were on the point to give up but Retina rescue the project." Steve B.
"… I´ve never seen such a performance so far in my machine vision biz life over 25 years before – Well done!" C. A.
"I got very good feedback from your visit at … In short they have been impressed by your commitment and professional behavior. Furthermore they mentioned you are really living…" Martin G.
"Ich möchte mich persönlich für den Einsatz bedanken. Dieser Einsatz war Sehr wichtig für dieses Projekt und wir konnten die letzten offenen Punkte beseitigen und … Sowohl der Einsatz als auch ihre Professionalität war zu jeder Zeit tadellos und lobenswert!" Stefan W.
VIDEOS
Succeed Where Other Failed
Administrator
December 23, 2022
A.I. OCR tool, automotive part quality insurance software, automotive parts quality inspection system, Best deep learning experts, Best deep learning industrial software, Best Deep learning software, Best in class industrial deep learning software integrator, Best industrial deep learning inspection system, camera avec intelligence artificielle, Cognex Deep learning comparative, Cognex ViDi alernative, Cognex Vidi System rating, Cognex Vidi Systems comparative, Collaborative robot, Congex Vidi suite comparative, Deep Learning, deep learning inline inpection system, Deep Learning OCR software, Deep learning Pharma inspector, deep learning pharmaceutical vials inspections, Deep Learning Swiss Software, deep learning vials visual inspection system, deep learning visual liquid inspection solutions, Detection of particles in vials, Edge computing device for industrial applications, Edge computing PC for automation application, efficient way to detect particles in acquous solution, factory automation, factory automation OCR reading, forged parts defects detection, glass ampoules visual inspection, Glass vial visual inspection, industrial character detection solution, Industrial deep learning comparative, Industrial deep learning software comparative, Industrial deep learning solution comparative, Industrial Optical character recognition, Industrial PC with graphic card, Inference PC for industrial applications, inline deep learning quality control, inspection IA de fioles pharmaceutique, machine vision, medical appliance quality inspection solution, medical devices defect detection solution, medical devices inspection system, Oberflächen medizinischer Schrauben, PC industriel avec carte graphique, Retina Olive OCR, Rillen und Unebenheiten und Graten zu erkennen, Schrauben mit Eindrücken erkennen, similar to Syntegon inspection system, similar to Wilco inspection system, susceptor defect detection, susceptor quality inspection system, Swiss Deep Learning Software, Systeme de vision artificielle, tracking of particles in liquid, Training and inference server for factories, Universal robot visual inspection station, Universal Robots UR3E, Vials human-like inspection systems, Vidi suite alternative, Vidi System alternatives, visuellen Qualitätsprüfung, wafer carrier inspection software
Artificial Intelligence, Company News
No Comments »