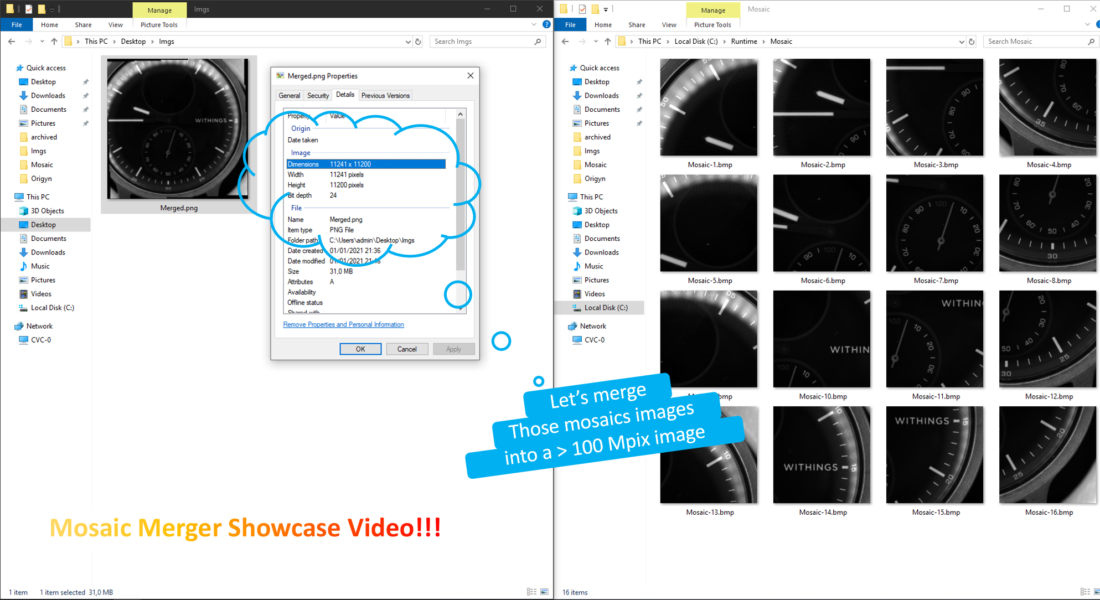 How to Create an Ultra High 121Mpix Resolution Image for Improving Watch Surface and Saphire Quality Inspection
Merging a set of mosaics into an ultra high resolution image for cracks, scratches and dust inspection as tiny as 5 microns.
We could not find any industrial camera on the market that provide a minimum resolution of 5um/pixel on a field of view of 50x50mm for watch surface, glass and dust quality inspection. As we have an Universal Robot UR3E sitting in the office, we decided to quickly implement a merger that can stitch together a set of mosaic images to create a image with the requested resolution. We end up with a resolution of more than 11'000 x 11'000 pixels (121 Mpix).
The video below shows how we set up quickly a solution using an Universal Robot UR3E for grabbing a set of 24Mpix images using an industrial grade camera for enhancing watch quality control application. As a result after stitching all of them together into a 121Mpix image, we successfully satisfy the specification of 5um/pixel on a field of view of 50x50mm. This high resolution image will allow inspecting dials surface anomalies, dusts, glass cracks and saphire defects as tiny as 5 microns.
Moreover, our setup is able to read OCR, barcodes and production-ID on the back of the watch. These numbers are then matched with the manufacturer database for traceability and production follow up.
Feel free to submit us with your requests, we will be glad helping you chosing the most appropriate turnkey solution or simply select the appropriate camera setup and software solution in order to warrant the best quality out of your production line.
"3HLE" is mainly offering Turn-Key solutions including Hardware, Integration of Software and Automation Processes dedicated to high speed automated quality control applications. For more Showcases, check out our Success Stories page or check out our Products pages to learn more about our hardware and software solutions. We are working to build up more and more contents in those sections, please subscribe to our "3HLE" LinkedIn, FaceBook or Youtube pages to get notified as soon as new contents will be available.